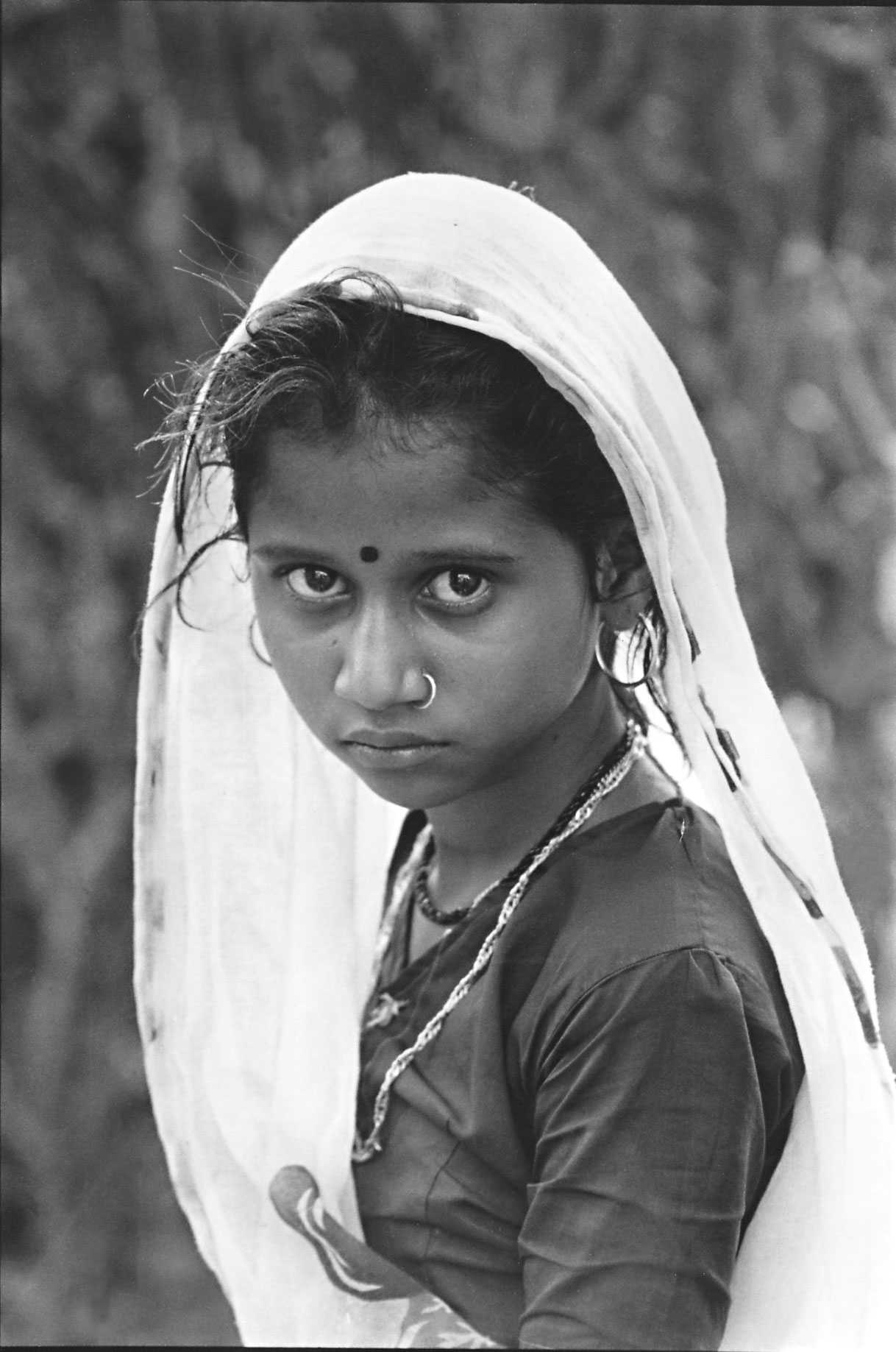 SANTANU MITRA
The life of an errant photographer
Santanu was brought up in Bombay the first few years of his life. Remembering those days he recollects, "The light was different in those days, clearer somewhat." Sure it was clear, because the Bombay of the 60's was windswept with almost no pollution. His earliest memories are the Marine Drive, the Gateway of India at Apollo Bunder, constructed to commemorate the landing in 1911of King Emperor George V, the coconut wallahs and the mumphali seller, horse drawn carriage rides, Colaba Causeway, The hushed thin air of Khooshru Bagh and Muhammed Rafi sahib singing on most radios in the little shops of 1st Pasta Lane. And at home, gorging on Chotoder Ramayan and Chotoder Mahabharat published by Deb Shahitto Kutir. His first ever comic format literature.
When he was almost 7, his uncle returned from Germany with an unusual gift for him. Chocolates yes, cookies yes, even two EP vinyl records with Besame Mucho and the House of Bamboo!! But most importantly, he gifted the child a camera. An Agfa Isoly II 120, hand wound 120mm negative film, 12 shots to a roll. Available setting was only the aperture; f4, f4 with a yellow filter and F11. That was it. His father used it initially. Family trip to Ajanta, Ellora, Aurangabad, Khandala to the Hanging Gardens on top of Malabar Hills et al.
The story pauses there. Santanu comes to Calcutta with his father. Life became busy with school and growing up. But like many of his mates, watching films became a passion…irrespective of genre, language or taste! Parallel to this his diet consisted of comics like the Phantom, Mandrake, Flash Gordon, and in Bengali Sukhtara were his favourites.
Thus grew an interest in images. Constructed images. A choice of selection, what to see [in the frame] and what to leave out. A political, poetic, moment freezing choice. By high school, Santanu, had taken up his long lost gift, the Isoly II. So began a journey, quite by chance but guided by some unknown inner quest for defining space, to capture emotions, to hold a story in one's hands, to comment as a social being.
After college, Santanu heard of an institution called Chitrabani, a multi disciplinary media centre directed by Fr. Gaston Roberge. He joined two courses concurrently, one as a member of team of photographers in an informal training programme headed by Brian Balen and with Deepak Mazumdar in a course in Social Communication.
The former taught him the skills, for by then he had acquired an Asahi Pentax MX [for a princely sum of Rs. 2,500/-] and most of his fellow photographer and he would share a 400 feet AGFA NP22 cine film roll and then cut it up in the darkroom to roll them in 35mm film cans. 36 exposures each!! The latter however, gave Santanu a chance to hone his skill. Over and above the assignments from the Photo Department, which focussed on Calcutta, a city of diverse people, shooting life on the streets concentrating on people and public spaces, his course in Social Communication took him to the rural hinterland of Bengal. Travelling to festivals far in the villages, crossing rivers, staying awake nights, listening to blissed out bauls in the throes of euphoric singing, the Chau dancers dancing to the primordial beat of forest drums whirling and rolling with the beats… It was a new world of magic and amazement.
Thus began Santanu's journey as a professional photographer. A photo essay with a write-up by him sold to Namaste, the ITC in-house magazine. There was no looking back. He went to Delhi and contacted several travel and culture magazines for work and after his debut, he was good enough to be published by some of the best magazines of this genre. For the next six years he survived as a travel photo journalist and published with Destination India, Namaste, Swagat and several Travel Guides. During this time he travelled to the far corners of his country, diverse, rich, colourful and intricate.
While in Calcutta, he freelanced with the Telegraph newspaper, mostly in the area of culture and stage. He travelled to four consecutive Khajuraho Dance Festivals, covered the Bolshoi at Rabindra Sadan and the International festival of Dance and Theatre, a seven day affair with the top exponents in the field attending. Anna Halprin, Richard Shechner, Eugino Berba, Panikker from Kerala, Badal Sirkar, Girish Karnad, B V Karanth, Sunil Kothar just to name a few. While not working for the Telegraph, he freelanced and got odd jobs like travelling with the Head of Cinematography of Murdoch University Perth Australia, Peter Jeffery, to meet top film directors of India like Mrinal Sen, Satyajit Ray, Mani Kaul, Basu Chatterjee among others. Santanu was still an informal part of Chitrabani was making multiple Carousel transparencies [slide] projections. He was also actively shooting Mother Teresa for almost two years off and on, for CARE, a sponsor of the Missionaries of Charity. With Mother Teresa he experienced the Home for the destitute and Dying, the Leprosy colonies in Asansol, the Nirmal Hriday with inmates covering all forms of human handicaps and victims of social apathy.
Soon he shifted base to Delhi and joined The Indira Gandhi National Centre for the Arts under Dr. Kapila Vatsyayan, working in the archival field of Photography. Santanu photographed the art works of Elisabeth Sass Brunner and her daughter who coming from Europe in the 30's travelled through China, Tibet, Burma and India to document the life of people there. They spent time with Rabindranath Tagore who's philosophy influenced them greatly. He worked on the production team of Aakara, an international exhibition on Calligraphy. He painstakingly shot the Neolithic rock cave art of Bhimbhetka with Dr. Yashodhar Mathpal, a giant in the field. But the icing on the cake was when IGNCA acquired the complete photographic effects of Raja Lala Deen Dayal, the erstwhile Court Photographer to Mehboob Jah 6th Nizam of Hyderabad. Santanu was deputed to catalogue and pack and bring to Delhi the said effects! This comprised almost 2,500 hand coated emulsion glass plate negatives, sizes, 15×20, 12×16, 8×10 and 4×6 inches. Six view cameras made mostly in the United Kingdom and Germany, several lenses, innumerable POP prints of Army Officers and their wives and servants, The Royal Court, nautch girls in their finery, children of the aristocracy, palanquins, hunts and dances …the list goes on.
This was a treasure trove for Santanu, who lovingly catalogued and packed each and every item to be shipped back to the IGNCA. He recalls, "I think I really did learn a lot during those days. How a pioneer photographer documented his times with such care and perfection using not so user friendly equipment was verily a task for the toughest."
After two years at the IGNCA, Santanu joined The Times of India, New Delhi, as a press photographer. During is six year tenure with the TOI, he covered all kinds of usual press assignments, from football to fashion, from murders to rallies, from politician to under-trials. He covered three riots at Khurja, Aligarh and Meerut. His portfolio includes the Mandal Commission unrest and he recalls, "Having to shoot with tear gas all around was a real challenge, it's the police who taught us how to keep salt in one's mouth for some relief." He was there when Rajeev Goswami committed self immolation and was rewarded with the front page the day after. He covered Lal Krishna Advani on his Rath Yatra, Murli Manohar Joshi on Ekta Yatra to Kashmir, and climbed onto an AN32 cargo aircraft to cover the last sprinkling of the ashes of Rajiv Gandhi over the Himalayas with the hatch open at -24 degrees Celcius. "The sight of the mighty Himalayas from that height is unbelievable", he says. He was appointed Chief Photographer Economic Times for the last two years of his tenure at TOI.
After resigning from the TOI, he joined television as a Producer and produced India's first Art Review Show, State of the Art with Jessica Lall as presenter and also produced The Inside-Outside Show, a programme based on Architecture, Interiors and Usable Art. He also produced his first ever documentary on the Bauls of Bengal.
As his interest developed, Santanu started working as a Line Producer for projects of the BBC, Channel4, Canal Plus, TF1, TF24, Thalssa, Arte etc. He covered four Kumbh Melas and worked as Interpreter, Researcher, Cameraman, and Fixer.
In the early 2000's he was asked by a friend, and ex-boss, to join as a Photo Editor for two newspapers in Nepal. Santanu's work was to put a team of local photographers into a cohesive team and supervise the work of the department. He would , also, have to travel extensively all over Nepal to document local issues there, be they refugees, Maoists or local festivals and craft.
After successful completion of his brief, he returned to Calcutta where he joined as HoD of Media Studies at a renowned University. But his shifty feet wouldn't let him be bound to a desk. He started freelancing again for foreign channels and private producers, and teaching a bit o the side. As he still does.
Santanu has exhibited in Calcutta, New Delhi, Kathmandu, Oslo and Arendal in Norway and Stockholm. But for all exhibits he is immovable on one count. "I like to keep my photographs full frame, no cropping. That is why I leave the natural black border of the negative gate in the frame. I somehow feel it adds to the authenticity of my endeavours", he says. And then sighs, "Digital age has deleted all that."
When asked what he got out of life as a photographer, he smiles. His eyes look inwards. Then afer a pause he says, "Photography has been my life and learning. When you are looking at the face of Pandit Mallikarjun Mansoor through a 180mm, 2.8, you can feel his voice rip through you. When you see a smoking jugghi jhopri colony after a recent fire through a 20mm you can see the devastation in one glance. When you see the Nagas rush to Ganga ji during Shahi Snan through a 400mm. it's the energy of the moment that grips you by your throat. Photography has brought life to me in a way that I would never ever have seen as a civilian, and yes, I do mean a civilian. It's because a photographer is always a Samurai. He has to have the eye, the sense and the reflex to capture a moment that can become timeless!"
[Disclaimer: A lot of jargon may not be understandable by young readers or non-photographers. We apologise.]