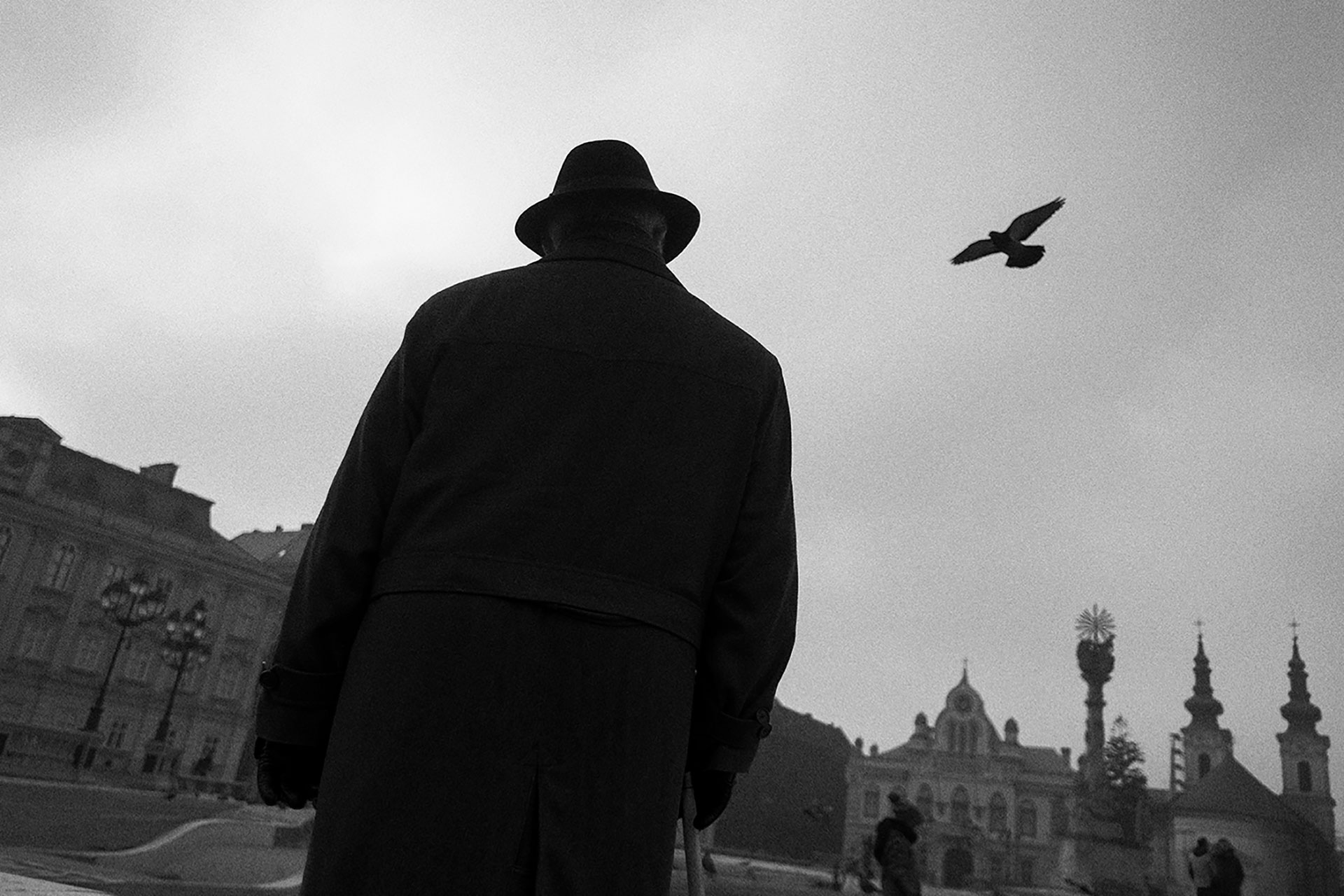 Can you tell us a little about of you and how you got started with Photography ?
I live in Bucharest, Romania, I'm 35 and I'm addicted to photography. Especially to street photography. When I was a boy, I was dreaming of becoming a coreographer or to work in the music industry, but I ended up graduating the Academy of Economic Studies. A total loss of time. I didn't like it at all. As a student, I started working as an editor and voice over for a radio station, and after graduation I found a job in television. Again, a creative medium. Nowadays I'm still in television, working as a video editor. I am an active person and when I really like something, I totally devote myself to it. No sacrifice is too big. I like to respect people and to be respected. I like to believe that photography is the best medicine, at hand and quite cheap. And it goes very well with music. For the last 3 years I've been an admin of the international street photography group On Spot. During all this time I had the pleasure to promote excellent photographers and I got to learn a lot from them. I was part of various street photography exhibitions, as those from the Miami, London, Milano or Bruxelles festivals.
Where do you get your inspiration for Photography? 
From films, music and everything related to the visual domain. From the photographs which I see daily, from different talks with my friends. Photo books play an important role as well.
What does 'street photography' mean to you?
For the last 5 years, it became some sort of an addiction. Or maybe it was from the beginning, but I have a different understanding of things now. It's a lifestyle…And even if I wanted to quit more than once, I couldn't do it.
Who are the Masters of Photography who inspired you most in your photographic works?
Joel Meyerowitz. Trent Parke, Alex Webb, Elliot Erwitt, David Alan Harvey, Constantine Manos have a special place… But there are many otthers.
What first drew you to street photography—and how did you discover it?
I don't recall exactly what made me want to take photos of what I was seeing. It just came to me I guess. It happened about 15 years ago, when I touched the first camera. Many stories to tell since that day.
Are you believe that observation is the main thing in street photography ? 
Yes, observation is a key factor in getting a good image and also in evolving as a photographer. But in order to develop a sense of observation you need to back it with lots of work and patience. Time is no ally either…
Black white or colour and why ?
It doesn't matter to me if a photograph is in color or in black and white.
It's the message that matters. I think it's every photographers decision what he or she wants to pass on. Lately I've chosen to edit in color, but this doen't mean that if an image would look better in bw I won't edit it that way. It depends a lot on circumstances and the message. In both cases, I try as much as possible to show the mood I observed while photographing, and not to distort things. After all, life is so colorful that it would be a pitty not to show it. I think a photographers should follow their own style, their gut, and the message they want to convey. An image doesn't have to be in bw to be timeless.
In a street picture, do you think the contrasts of light are important to tell a story or are just an aesthetic fact?  
The light can certainly create stories through the shapes it creates. I believe though that it manages to help the composition especially through the volumes that it gives. The study of light in the street is a good exercise…to try to minimalise the composition with the help of light or on the contrary, to paint with light in a complex image.
Taking a shot in the street could be difficult at times; dealing with people's reactions or making sure it is not invasive in the various situations that could arise, is not always easy. What is your approach in these circumstances?
Getting closer to the subject is a big challenge. You don't know what the reaction will be and it is always a risk taken. That is why I believe it is important to smile, to be opened, so that you won't be seen as a menace to them. I get quite close to my subjects, sometimes I shoot from the hip in order not to alter the subject's state of mind or being in the moment. Once you are being noticed, the photographed ones change their attitude. Things have changed, as the Covid crisis came along and people's behavior changed. It will be more difficult to get closer. A real challenge now.
What is your approach with your camera when you are shooting unknown people in the street? This is a problem for many photographers: how do you manage it or how did you overcome it?  
In the beginning I used to avoid photographing people. Little by little I realized that what doesn't kill you, it makes you stronger. For me listening to music really works, I act as a tourist in my own city. And people feel that. I have no problem with photographing strangers.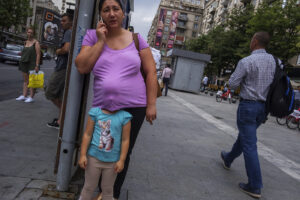 Which subjects, both people and places, inspire you most and make you to look for the shot, or that you think better represent your city and your land?  
I think variety is very important in photography. So I try not to think in advance of a subject, when I go out. I might get lucky and catch a candid moment or just the everyday simplicity… Having options is a plus in my opinion. If the location has photographic potential as well, then it's a real bonus.
Do you think is there something unique in the street photography that distinguishes it from other genres?  
Yes, the sincerity and naturalness of the moment. The liberty of not answering in front of anybody for the way you want to depict reality.
In recent years, Street Photography has boomed, what do you think it's due to? And what evolution has there been?
I would begin with the second question…I think we are dealing with a decline nowadays in street photography. Lots of cliches, people just want to imitate in order to get fast appreciation and recognition. Street photography has boomed judging by the number of images, not necessarily through quality.
What kind of gear do you use?
I use my  Fujifilm XT2 with a 8 mm lense , in 95% of the cases.
If you want to start any other categories then which genre do you want to start and why?   
I am attracted by documentary photography. You dedicate yourself to a cause, you get pretty involved and it requires lots of time, it needs to let things settle down. It seems very difficult to me, but that is why it is so challenging.
Which are the limits of ethics in a street picture ?
Respect for the photographed people is what matters first and foremost, in my opinion.There is a limit to all things. I try not to get to the limit and not to depict  my subject in humiliating way.
Among your works, which one is your favorite? Can you please share this photo?
And please share your best six photos .I can't name a favorite. I just hope that some day I will have an image that will count for something, or will be able to change something.
How has social media played a role in your photography?
Every Friday, I promote a photographer on a fb page: On Spot Gallery. I've seen thousands of images trying to get the best selection for the page and I can say it helped me grow, from a visual point of view. On Instagram also, I discovered many good photographers. Social platforms are a good thing, but only to a certain point.
What tips or advice do you have for others who are started with street photography? 
The best advice that I got from a friend, also a photographer, was not to look for the sensational. From that moment on, I started to appreciate much more simplicity, and the banal. Another advice that I would give is for them to try anything, without restrictions, to let their imagination fly and to be inspired by other photographers. Attention though… to get inspired, not to copy, because it's a big difference. We all sort of change our perception through the images we get to see daily. I think in this case the Internet doesn't help. What works for me, doesn't necessarily work for you as well. Without work and practice you can't achieve too much. I believe that one of the biggest asset a photographer can gave is perseverance. Nothing falls from the sky and you have to make sacrifices and to be passionate enough not to perceive things that way. Another advice is for them to buy photobooks, as nothing compares to watching printed images, to attend workshops when possible and to be opened to new experiences. Also to watch as many films as possible (films with photographic potential) and to be amazed by the things and places they encounter on the way. To write down their ideas, not to be afraid of new things and to believe in themselves because they are unique. Not to forget, modesty is also important. There is no magic recipe, only too short days.