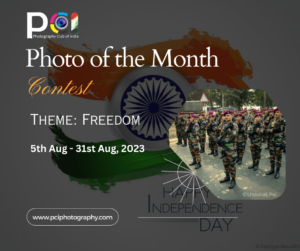 Team PCI is happy to announce the theme of the Monthly Photography Contest of August Freedom
RULES FOR PARTICIPATION:
• Submit your own images on PCI website  https://pciphotography.com/login/
• Entry Fees : 100 Rs ( INR )
• Maximum of 1 submission per contestant.
• Image Size should be within 2 MB.
• Images should have at least 1200 px on the longer side.
• No watermarks or any borders are allowed.
• Both Color and Black & White images are allowed.
• After your payment, please wait 2-3 minutes for image submission.
. During image submission, time, image description, photographer name, photo tiltle and EXIF details
are required.
• Contestants will receive an acceptance message from the admin/moderator when their images get selected.
• Contest period- 07/08/2023 – 31/08/2023
. No submissions will be entertained after this period.
• The awards will reach the contestants within 15 days after completion of the contest.
• The decision of the esteemed judge will be final.
• Participants are encouraged to follow PCI Instagram handle https://www.instagram.com/pci_ig/
• Participants should also follow the general group rules.
Steps:
Register on PCI site  >>  Check on POM Contest >>  Click on Participate Now  >>  Payment >>  Upload image
AWARDS:
The top three winners will get cash prize / PCI goodies.
• Winner – 2000 Rs ( INR )
• 1st Runner Up – 1000 Rs ( INR )
• 2nd Runner Up – 500 Rs ( INR )
• All Photographers will receive a digital certificate by mail.
Contest Help:
photographyclubofindia17@gmail.com
Whatsapp Support:
+91 9830967550
PCI Help Desk:
photographyclubofindia17@gmail.com / pci@pciphotography.com